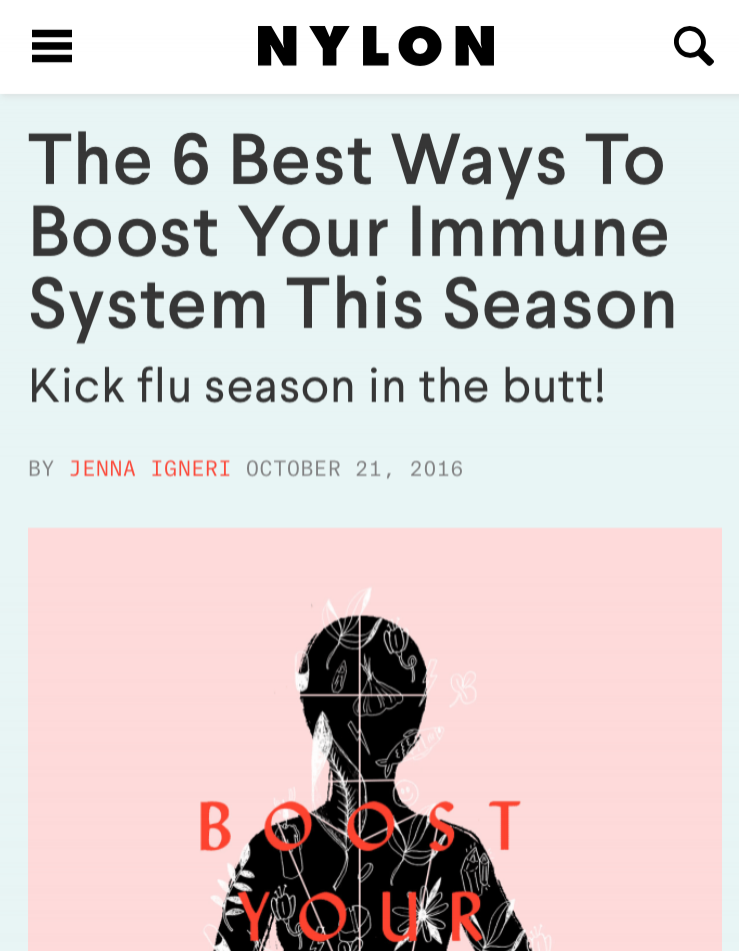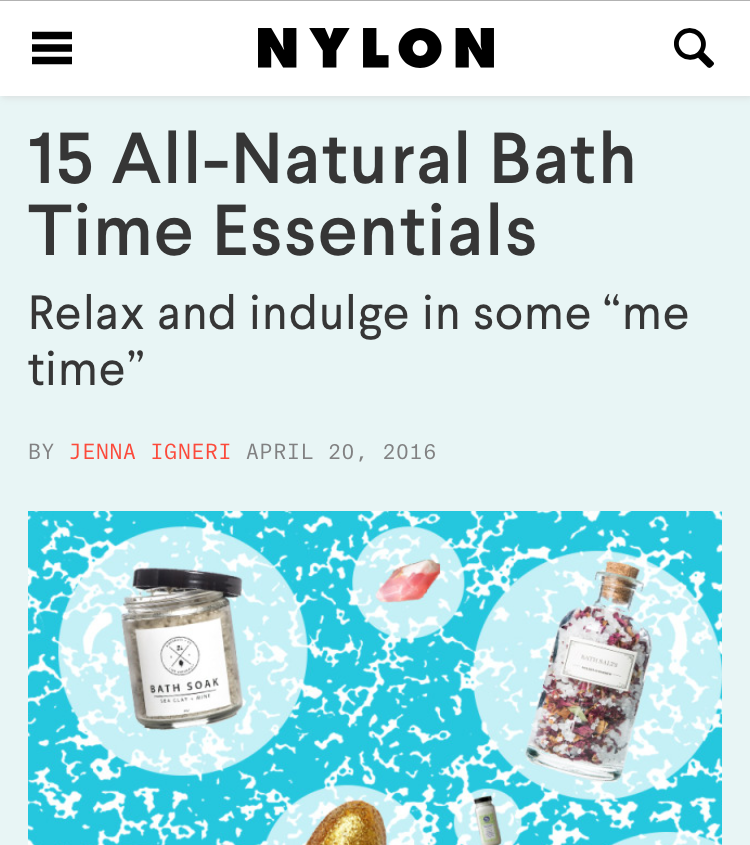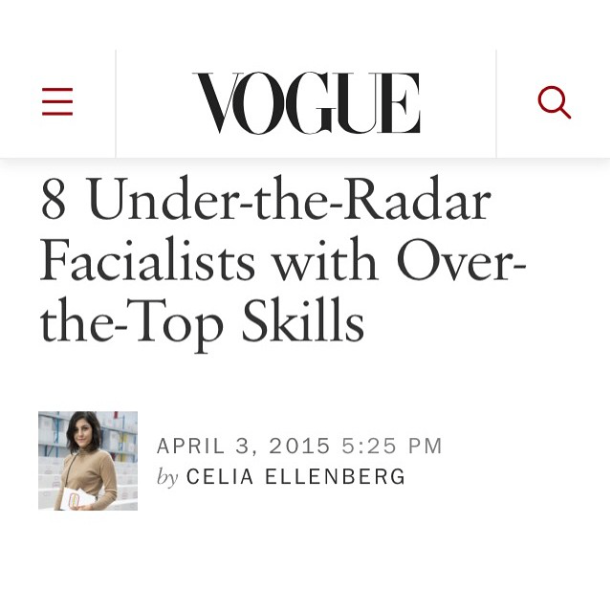 "After years of battling my skin problems with every different chemical I could get my hands on, I found Negin and she has completely transformed my skin. She uses beautiful, all-natural products that she makes and reikis herself, and my skin loves them. From the moment she massages raw honey into my face and places the freshly pureed cucumber masque on my eyes, I can feel all the stress of the city's day-to-day grind melting away. She gives my skin what it wants, what it understands, what it can really use. Since I started seeing Negin, I started wearing less and less make-up for the first time in my life. She makes my skin glow in a way that I don't need or want to cover it up. But having a facial with Negin is not just a facial… While I lay with an apple cider and green tea masque on my face, Negin massages my hands and shoulders, placing different crystals on my chest or beneath my feet depending on what I need that day. It's a pamper yourself inside-out treatment, and every time I leave my skin is glowing, my mind is clear, and I have a smile on my face that would make my cheeks hurt if she hadn't massaged them into complete relaxation. Negin is a truly beautiful person, with a rare gift for bringing out the true beauty in others. I really could go on and on..." Andi P.
"I have been going to Negin for years and LOVE her facials! She has mastered her own skin care range (I love the quinoa face scrub and rose face oil) and the ingredients are 100% natural (and edible). Sessions are infused with her zany sense of humor, grounding reiki energy, and a gentle scolding for not drinking enough water! Negin puts 100% love into *every* detail." Emma M.
"Just Be Skincare is a simplistic blend of alchemy, Ayurveda, and love! All made from food quality ingredients. Negin has evolved her line into a lovely pure collection I just cannot rave more about! All my friends and myself adore the Quinoa dry cleanser… it's a multiple talented product! It's been a godsend for me post Hawaiian sun parched skin and the Rose oil has given back the right amount of hydration my skin screams for. As far as a booking session with Negin, I say reserve ahead! Throngs of people are discovering her. As a mutual fashion client says, "I wish I had kept this gem as secret"! But as you will find out, this gem of a person shines inside and out and helps you do the same." Judie R.Y.
"Negin is so fully present in her manner and execution. She offers a deeply personal experience level that goes above and beyond any service I have received in an ordinary spa. She provides much deeper insight from skin analysis to nutrition and vitamin tips. I left the studio with a renewed sense of energy and well-being. She truly healed my skin from the inside out." Arianne U.
"I was sold on JustBe from the moment my treatment began. After washing and exfoliating just my hands with the body scrub, I noticed an immediate difference in the texture of my skin. The experience of using her products is daunting at first. But the dry products are so easy to use. There's no extra equipment needed to mix up the products; just a few drops of water in your hands and you're all set. Negin's rosewater is extra special. I never thought I would get such a wonderful benefit from all natural products, but now I am confident that JustBe stands up in effectiveness to any high end chemical process. JustBe just makes me feel better than all that other stuff." S.G.
"Negin is not only beautiful from the outside but also from the inside!!! In her craft as a skillful and talented aesthetician she cares and nurtures you with the love of a healer and a sister. I love her facials and her original organic product line "JustBe". Andrea A.
"Negin! I love your work! Every service you provide is done with such great care and is always personal – one of many reasons I keep coming back! I love the facial oil you made me – it's so awesome and smells so good and I love that it's natural." Julia G.
"Negin's products are good enough to eat. As a healer, Negin has taught me that my skin reflects my inside state of being. The food I eat, the sleep I am getting, the toxins around, stress, how I treat and touch my skin and body are all facts of interest for her. She taught me it all shows on the skin. Her products are AMAZING. Handmade, organic and made with love. They are good enough to EAT. She taught me if it's not good enough to put it in your body don't bother putting it on your body. Negin and her products teach me that good skin is a life style. JustBe says it all. To JustBe is of the highest value, the most natural state. The experience of her products is texture, aroma, purity mixed with Love like the plants themselves. They teach me to JustBe. Thanks Negin!!!" Chelsea L.
"I have sampled your facial products. Really enjoyed the cleanser & the facial oil. My skin has a tendency to be dry and oil really seemed to treat the issue rather than just "sitting" on my face."- Amber
"My preggers friend in Kona, who I gifted the cleanser and facial oil, just looooovvves the product for the natural goodness & smell! Mahalo JustBe!" Judie R.
"Hi Negin! Nice to meet you. Your products are amazing. My skin feels so clean and healthy, even at my age." Cameron E.
"Negin has opened my eyes to natural skin care and during a recent facial helped me zero in on things zapping my already sensitive skin. Love her products especially the oil, mist, and scrubs— I can feel the love and energy she puts into her line and into the facial experience." Allyson C.
"I always leave feeling refreshed, re-centered, and re-focused both inside and out. Since I started going to Negin I have seen a dramatic improvement in my skin. I do not have bad skin. I use her treatments as a way to upkeep and maintain my skin in addition to my daily skincare regime. Upon incorporating the Daily Cleanser, Rose Water, and Face Oil to my usual routine I started to find myself not wanting to use the other products. I have used the same skin care line for more than 10 years. Now, I only use JustBe! I love the Daily Facial Oil and Rosewater. Just spritz a little onto you palm, a few drops of the oil( which smells so good), lightly tap onto face, and you will find a bright glowing complexion. What I find special about Ms. Niknejad's approach is the unique blend of wellness and awareness. Couple that with products that make you feel good both inside and out (Negin's products are reiki'd by her) and you are bound to be AMAZED! In the midst of all of the chaos and stress that New York throws our way take time out to pamper yourself, get centered and JustBe." Patrick F
"What makes JustBe Skin Line so unique is the love and passion Negin has when she makes her yummy products. Negin is the most generous, loving and compassionate person I know. She has a gift for nutrition and care, and that is what you'll get in all her products and services. My favorite one is her "facial oil", my skin craves it and I can see can the result right away when I apply it. And you have to try the FACESATIONAL facial, it's just SENSATIONAL. I'm proud to say that I saw the line "JustBe" being born a few years ago, and had no doubt back then that it will be a great success. If you want great skin inside out , Negin is your specialist!!" Lydia D.
"There are so many "organic" and "all natural" skin care lines now available. Having experimented with many of them, I can honestly say that Negin's are the purest, simplest to use, and most effective. It's a plus that they're also affordable and, in a pinch, edible! Negin's facial are as much a healing experience as they are a beauty treatment." Mary A.
"Negin distinguishes herself with her holistic approach tailored to the individual needs of one's nature. She personally selects all natural products for creating her unique treatments, which she applies with equal parts of reiki and love." Rohit M.